Automatic and Manual Redirects
Automatic URL Redirects
When changing a category name, the browser will always look at the URL handle. It's good SEO practice to change the url handle to match the new Category Title.

Changing the url handle from A to B, will also create an automatic url redirect within Shopit. So any user visiting
www.yoursite.com/a
will automatically be taken to
www.yoursite.com/b
Manual Redirects
When migrating from an old website to a new Shopit site, you will need to tell both Google and browsers (for any fixed backlinks) of the new page url. If your old website was

and your new Shopit website is

Shopit offers the facility to create many different types of Redirects;

1. You can upload a mass of page redirects through our Import/Export page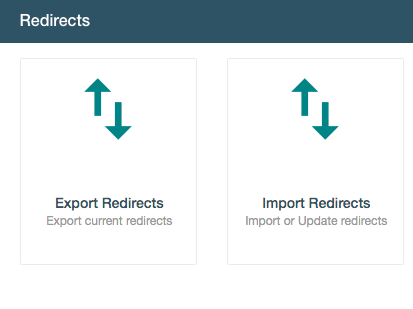 2. You can redirects from one page to another individually with Site Redirects; and you can redirect an entire domain name with Domain Redirects (inc the www. to non-www.)

Related Articles

Using the Meta Data fields for SEO

What is Meta Data? Meta data is additional information that a site owner can provide to search engines and users, to increase the understanding of the contents of a page. For SEO reasons you will often have Meta Title, Meta Description, Keywords and ...

Making Your Site Live - Domains

When launching a website by changing DNS settings, it can take 0-48 hours for a site to go live. Your website will still be accessible to you via the 'Edit Website' link within Design, or using the previous development url e.g. ...

Finding and submitting your sitemap

All Shopit sales channels will automatically generate a sitemap.xml file that contains links to all your products, product images, pages, and blog posts. This can be found at www.yoursite.com/sitemap.xml The sitemap is used by search engines like ...

Cookie Code

To comply with the European Cookie Directive you will need to add a third party script code to each website you launch. What is the Cookie Law? An explanation of this law can be found here - note this was adopted into UK Law as well. By adding a ...